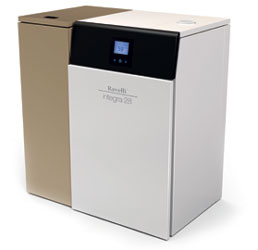 Wood pellet boilers
Automatic wood pellet stove provides maximum comfort for the users, i.e.:
Automatic ignition
Fully automated feeding system
Self-cleaning and maintenance
Operation and programming of the stove through a mobile phone, Internet interface with a touch display
High capacity pellet storage with and a large storage bin for effort-free heating
Standard warranty for the stove shell is 5 years, some producers prolong the warranty to declare the quality of their product
The latest type of wood pellets stove offers the following options:
Automatic cleaning of the burn pot and exchanger areas
Ash disposal through a convenient auger system to the ash bin
Automatic grating of the ignition space with a possibility of combustion of less quality wood.
The thermostat system regulates the required temperature and saves the fuel, the possibility of outdoor sensor to set the required temperature of the exchanger.
Today's standard option is a hydronic system within a couple of heating circles with different temperatures for example floor heating, TUV heating or solar heating.