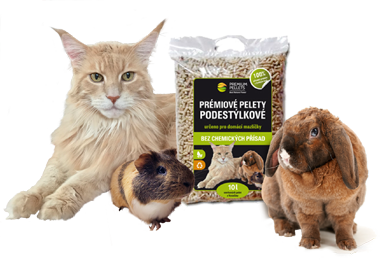 Animal bedding pellets

Bedding wood pellets have become a popular type of bedding for small rodents, small animals, exotic birds and cats, because:
they are made of 100% pure natural material (wood pellets are completely without bark), they smell of wood
they do not contain any chemical additives, colors, perfumes or adhesives, they are dust free and they can be easily handled by children
they efficiently absorb unpleasant smells and moisture
their life-time is longer than the life-time of the classic wood chips or other alternative artificial beddings
their final disposal is possible as a communal waste, because they are 100% fully ecologically decomposable and environmentally friendly. Due to their absorption of moisture during disposal they form back in saw dust pellets. Our pellets are earth- friendly and highly efficient.
Through purchasing of our bedding pellets, you support Czech forests and Czech producers, because the pellets are made from wood waste which is a side product of sawmills so the cut down trees are fully utilized. Raw material for our production is therefore naturally available and there is no need to cut down trees in order to produce the pellets. The production of wood pellets is carried out in the centre of the Czech Republic at our production plant in Golčův Jeníkov.