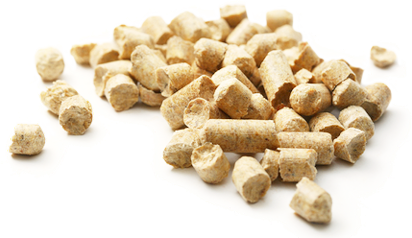 Production of wood pellets
No crumbles.
No slags.
High calorific value. Just perfect pellets.
What makes our pellets unique?

During the 10-years of development of wood pellets production technology at our plant in Golčův Jeníkov, we were able to utilize the convenient location of our production facility in the center of the Czech Republic and therefore we have had the opportunity to try plenty of suppliers and to compare the quality of wood sawdust, which is crucial for the prime quality of our wood pellets. We have tried suppliers from the whole Czech Republic including those from Austria and Poland so that we could select the best ones in order to get a mixture of wood sawdust in a ratio that makes our pellets just perfect for our customers.

We have been working on selection of the best material for our pellets. We managed to develop a fine composition of sawdust, which meets the highest standards so that our wood pellets meet the strict requirements for top quality rating.

We are fully committed to the result which enables us to provide our customers with premium pellets certified and classified as ENplus A1 (by the Austrian authority).

The suppliers of saw dust (wood mills) use various technologies for processing the wood, therefore we can get specific saw dust ranking from coarse barky to fine powdery dust or fresh vs older dust as well as moisture variations.

This saw dust is stored in a large closed sheltered hall next to the production hall, where it is sorted according to its features into 24 separated compartments. There they are mixed and subscribed by the loaders which take them for further processing to form into pellets.

Our regular customers provide us with regular feedback. Some of them had also tried the other producers of pellets, however, they finally came back to us, proving the prime quality of our product.

The positive references prove that our pellets are just perfect.

PREMIUM PELLETS are made from 100% natural spruce dust without any impurities or adhesives.

Our production technology of wood pellets enables earth friendly clean-burning which neutralizes CO2 emissions. The waste is reduced down to 0,3% which is a significantly small amount of waste.

As producers of wood pellets, we do not buy or distribute other producers' pellets.