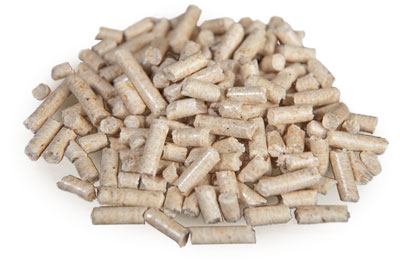 Economical heating
Wood pellets provide convenient whole-house heating as well as a clean economical fuel to heat company and public buildings. Wood pellets are suited for old houses and for newly built houses as well as for low energy cost houses. When building a new house, it is important to take care of the boiler room as well as the chimney system.
Similarly compared with gas or coal stoves the calorific value is suited for running a hot water hydronic system of heating. The heat output of a wood pellets stove for family houses is mostly between 10 and 30 kW and it can be automatically regulated according to your needs in the region of 30 to 100 % through automated fuel feeding system and the amount of air. The stove can be almost 94 % efficient. The heated space can be defined by calorific loss of the building as 50 W/m2 and 10 kW output of the stove per 200 m2. Wood pellets stove can resolve not only heating but also hot water source in the buildings which requires a space for fuel storage unit. The storage bin's capacity with automatic feeding is sufficient for approx. 30 days and can be easily refilled.
Specific example:
A house with heated space of 10 x 9 m, boiler room (7 x 3 m) with a shelter for a car (7 x 4 m).
a laundry, a WC, a closet under the stairs, a hall, a pantry, an open space living room and dining room and a kitchen
2 children rooms, bedroom, dressing room, WC, bathroom, hall
The house is built from abraded bricks Heluz Family 44 joined with a foam and insulated with a 14 cm Styrofoam. The loft is insulated with mineral wool 36 cm. Wood windows euro thickness 92, triple glass.
The house has a system of floor heating. The main source of heat is a wood pellets stove type OPOP BlackStar 20 Kw which is connected to the reservoir at the volume of 500l, which is optionally heated through solar collectors. (the water is heated through the solar collectors during the whole summer.) The operation of the heating system is computer assisted depending on the inside thermostat and the outside temperature. In the living room there is a fire place (14 Kw) with air conduit heating children rooms, a bedroom and the corridor on the second floor.
During the winter (2016-17) we used approx. 2,2 tons of pellets and previously approx. 2,5 tons of pellets in the years (2015-16).
Přemek Dvořák, Třemošnice.